Flying with Fido
CBS Early Show anchor, Russ Mitchell and Dr. Debbye Turner, resident veterinarian for the morning talk show spent time on the topic of Flying with Fido.
Russ Mitchell: Is it safe to travel with your pet?
Dr. Debbye Turner: Largely it is safe but there are a few important things you need to know about the airline, your pet and flying in general.
Bentley, a Chihuahua and WOOF Patrol's Pomo, a Shih Tzu, both 5, were on-air guests demonstrating fitting inside the regulation-size airline carrier bags needed. Dr. Debbye Turner explained a few things to know about Flying with Fido as well as provided safety tips for airline travel.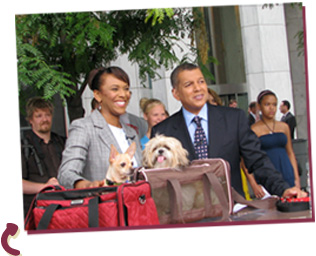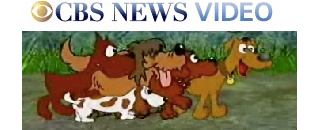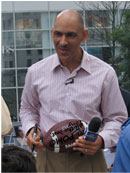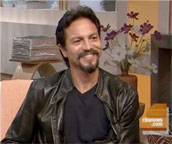 Tail-Wagging In-Cabin Airline Travel & Safety Tips
Reservations are required. Expect a fare of about $100 each way.
Age and Weight restrictions apply. Generally your pet must be at least 8 weeks old and weigh 20 or less pounds.
A regulation size pet carrier is required. Check your airline's website for specific dimensions. Keep in mind that the bag must be able to fit underneath the seat in front of you and the dog must be able to lie down and turn around comfortably inside of it.
Bring the basics: collar and leash, portable water bowl, familiar toy to cut down on the pet's stress of traveling and a emergency first aid kit. If possible avoid tranquilization or sedation.
Take a wee-wee pad in case there are travel delays.
Try to book non-stop flights.
Before traveling, limit your pet's water intake. After boarding request ice-cubes for Fido.
Consider traveling with only carry-on luggage. This will expedite getting out of the airport terminal as quickly as possible so your pet can do his business.
Have available: wipes, snacks, a copy your pet's airline reservation #, up-to-date vaccinations documentation, dog license, microchip ID# and don't forget to pack their hairbrush and toothbrush.
Make sure your pet is secure, comfortable and feels nurtured.

Pomo, WOOF Patrol's mascot, is a world-class traveler. His air travel preparations begin the day before with a routine of extra walks and even a bath so that the day of the flight he's ready for a wonderful and restful mile-high nap. He knows the airport drill, having earned his wings at a little over 3 months of age.
Pomo goes on 'travel-mode' autopilot in the taxi on route to the airport. We always arrive 2 hours earlier than our flight time so that Pomo can go for a last minute walk and bathroom run prior to going through security.
Keep in mind pleasurably traveling with your pet is all about preparation. BE PREPARED! Check with your airline carrier before heading for the airport in case policies have changed since last time you traveled by air. Creating a checklist is a good idea for both you and your pet.
On-Camera Paw Talk: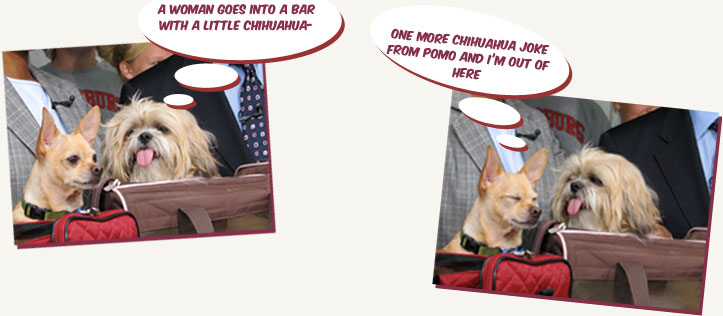 Flying with Fido Take 2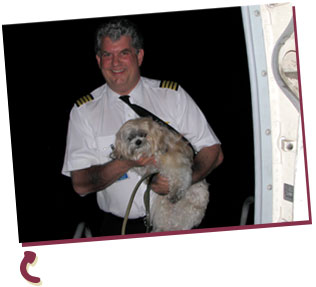 Wingmate
Two and four-legged passengers are receiving first class service on Continental. While the airline is reducing some international and regional routes and eliminating 3,000 jobs, it's still providing quality, pawsitive service. On June 14th, flight 449 from San Francisco to Newark set the benchmark for genuine doggone good customer service. When severe thunderstorms in Newark forced a landing at Stewart International in Newburgh, New York, Lhasa Apso, Sally and Shih Tzu, Pomo were already 6 hours in the air. That's when flight attendant, Robyn Meierowitz, sprung into action and made a special request to the airport officials and the flight's Captain Jerry McDermott: "Can the dogs disembark for a pee break?"
Continental Airlines Leads the Way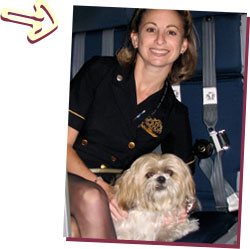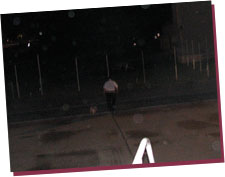 The Captain (the only one allowed on the tarmac) took the lead ... and the leash. First he walked Sally, who was nervous because she had a connecting flight to Madrid and then Pomo, WOOF Patrol's mascot. Both pooches did their duty, adding humor and a first-class touch to the flight. Happily the flight proceeded to Newark where everyone was able to make his or her connections. And the doggies were able to relax.